Saving & Spending: State Farm Bank Presents Financial February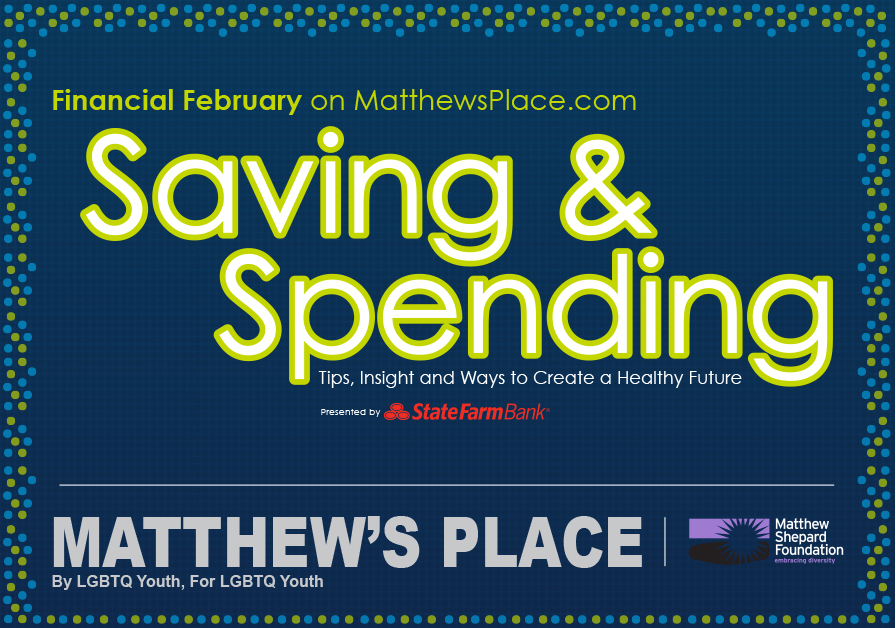 This February marks the third annual partnership with State Farm Bank on the Matthew Shepard Foundation's LGBTQ youth resources site, MatthewsPlace.com.
This year's theme is "Saving & Spending." Throughout the month, the Matthew's Place bloggers will write blogs and create videos on the theme in ways that are relevant to their lives. In the past, the site has featured a variety of blogs from the youth contributors with interesting and accessible information on how to save on a small budget and more.
The Matthew's Place bloggers are gearing up to present their ideas on paying for school, saving to have their first apartment, affording health care and more. The site will also feature interviews and articles by State Farm agents. This month, Matthew's Place will change from its usual purple color to State Farm Bank's signature red to recognize this endeavor.
"We are proud of the relationship with Matthew's Place and in helping youth realize their dreams through our financial literacy work together," said Ed Woods, Enterprise Philanthropy at State Farm. "Many young people are facing financial challenges, including paying for school and learning to budget on their own. Our hope is that Financial February on MatthewsPlace.com will empower youth with tools for financial success."
There are so many choices that young people make that can have a huge affect on their lives later, said Matthew's Place Editor Christine Romero. Credit cards, paying bills on time, and paying for school are all significant items that require financial education that young people may not receive elsewhere – making our partnership with State Farm Bank especially meaningful.
"LGBTQ youth can be especially vulnerable when it comes to these topics because they may be struggling with their orientation or identity and bullying," she said. "We hope that by even just raising the idea about financial education and literacy that it will help the young people who visit Matthew's Place make just one positive change that will create a foundation for a happy, healthy life."