Safe Space(s)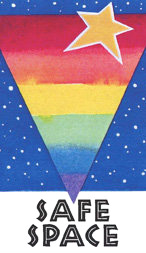 Well this week has been an interesting week in the world. As all eyes turn to Egypt its almost as if the rest of the world has been put on pause except for everything that has to do with university. This week saw the semester's first Campgrrl meeting as well as the semester's first NYU Democrats meeting, both of which went well.
In Campgrrl we elected a new treasurer bringing our e-board to 4 freshman and 2 seniors. Being back at meetings quieted some of the doubts I was having about whether or not I felt like I actually had a place at the LGBT Office (which is now the LGBTQ Student Center) but we will see how the rest of the semester's meetings go to see if all of my doubts are silenced.
In addition to Campgrrl there was the first meeting of the NYU Democrats which was interesting and depending on how following meetings go I might have a place there which would be exciting to be around people who are interested in political concerns that extend beyond those that are based in the LGBTQ community. I guess I'm still just looking for that spot on campus where I feel like I really belong and it maybe a single spot or it maybe many spots each one to fulfill a different need within me, but I'm not going to stop searching until I find it.